Monopolar laparoscopic instruments have an inherent problem with their design; they are prone to insulation failure and capacitive coupling, causing patient burns. These stray energy burns occur in the surgeon's blind spot. As a result, they typically go undiagnosed and further manifest into severe complications. Stray energy burns led to more than 16,500 patient complications and 4,000 preventable patient deaths over a 10 year period in the USA alone.*
Non-AEM Laparoscopic Instrument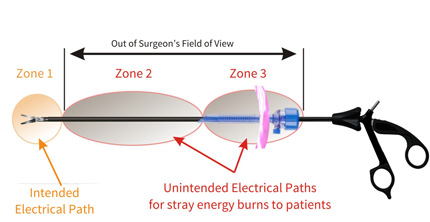 Patients, physicians and nurses can be assured that Encision's AEM® technology eliminates stray energy burns in monopolar laparoscopy, guaranteed.
At Encision we understand that patient safety, quality, and affordability are all extremely important to our customers. Our complete line of laparoscopic instrumentation has been innovated around these core values. Working hand in hand with physicians and nurses, we have transformed these ideas into lifesaving products with best in class performance.
Our customers find that using AEM instrumentation not only leads to better patient care but also to substantial cost savings. When AEM eliminates stray energy burns it also eliminates the associated patient complications, cost of readmission, and medico-legal expenses. On average we save our customers $249 per procedure, when compared to non-AEM monopolar instrumentation.** When compared to alternate forms of energy, the cost savings can be even greater.
With the advancement of surgical techniques such as single port access (SPA), the need for AEM shielded instrumentation is greater than ever. During these procedures, instruments are in close proximity to one another. This close proximity leads to a significantly increased risk of burning a patient through capacitively coupled energy. AEM instrumentation eliminates this risk.